A dentist, dental hygienist and dental assistant have been named to Community Health Programs' new dental practice at CHP North Adams Family Medical and Dental Center.
Michael Wasserman, D.D.S., who previously worked in private practice in Pittsfield, is a graduate of the New York University College of Dentistry. He earned his undergraduate degree at the University of Maryland and went on to serve as a general dentist in the U.S. Army, earning an Army Commendation Medal in 1983. That year, he began practicing general dentistry in Pittsfield.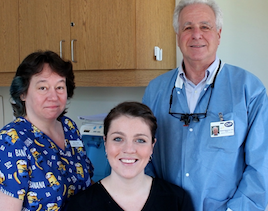 Wasserman has served as president of the Massachusetts Dental Society and has held leadership roles with the Berkshire District Dental Society. He is also the American Dental Association's First District Representative to the ADA Council on Advocacy for Access and Prevention.
Dental hygienist Kelly King, a Hudson Valley Community College graduate, has also been named to the practice. A graduate of McCann Technical High School, she first earned certification as a dental assistant and later earned her A.A.S in dental hygiene at Hudson Valley Community College.
She has worked at dental practices in the Pittsfield and North Adams areas since the late 1980s.
Dental Assistant Whitney Stengl has also joined the staff.
The North Adams Family Medical and Dental Center practice is accepting new patients, and appointments can be made by calling (413) 664-4088.
The practice accepts nearly all health insurance, including Berkshire-Fallon and other plans.