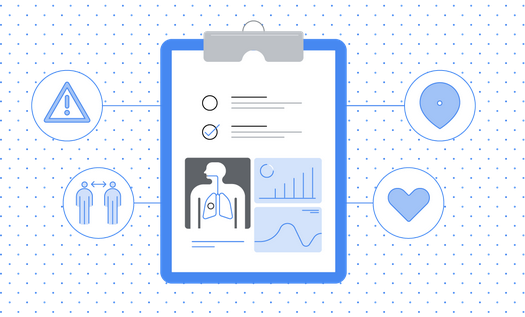 People who receive vaccines can avoid serious illness, hospitalization and reduce the spread of Covid-19. CHP urges everyone to:
Wear a mask when out and about and while in public indoor places like markets, theaters, stores and other places where people circulate, including at work.

Maintain physical distance from those around you as best you can.

Wash your hands often.

Avoid indoor gatherings.

If you feel ill, stay home and contact your primary care clinician.
Use the CDC's "self-assessment" tool  (left) if you think you have Covid-19 symptoms
VACCINES
At this time, all Massachusetts residents 5 and older are eligible for FREE Covid-19 vaccines.
Visit our Calendar to find the schedule for CHP's Mobile Health Unit, which travels the county delivering vaccines (Moderna, Pfizer, Johnson & Johnson) at different locations, as well as booster shots.
For information on other COVID-19 vaccine walk-in sites in Berkshire County, visit: getvaccinatedberkshires.org.  
Many area pharmacies also offer vaccines, so check with a pharmacy in your neighborhood to learn more.
You may also contact the Berkshire County COVID-19 Vaccine Hotline (413) 449-5575 for Covid-19 information and assistance.
Questions about vaccines? Concerned about vaccine myths and misinformation? Visit the CDC for the most up to date FAQs.
For those without internet access, area Councils on Aging offer help in finding vaccine appointments for vaccines or testing.
| | |
| --- | --- |
| Council on Aging info: | Phone # |
| Williamstown | 413-458-8250 |
| Adams | 413-743-8333 |
| North Adams | 413-662-3125 |
| Sheffield | 413-229-7037 |
| Pittsfield | 413-499-9346 |
| Great Barrington | 413-528-1881 |
| Lee | 413-243-5545 |
| Dalton | 413-684-2000 |
| Lenox | 413-637-4787 |
TESTING
If you believe you have Covid-19 symptoms, or have been exposed to someone with symptoms, you may
Visit the CHP Mobile Health Unit page to find out about appointment-based testing.
Contact your primary care clinician for guidance on testing.
Or, call the Berkshire Health Systems COVID-19 Hotline, at 855-262-5465, 8 a.m.-4:30 p.m., for guidance on getting tested at in Great Barrington, North Adams and Pittsfield.*
CHP offers free testing as part of the "Stop the Spread" campaign. Contact your primary care clinician with questions about cost.
Cost: Testing for health-related reasons (symptoms or possible exposure) is generally free or covered by insurance. Optional testing (for travel, for instance) may require payment.
If you believe you may be sick or have been exposed to Covid-19:
Wear a mask.
Maintain a physical distance from those around you.
Wash your hands.
Avoid indoor gatherings.
If you feel ill, stay home.
If you have symptoms, get tested.
If you have questions that are not answered, contact your CHP clinician. If you are not a CHP patient and would like to join us as a patient, contact us as a practice location near you.