Joslin, Allen D., MD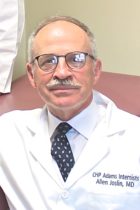 Clinician Name:
Joslin, Allen D., MD
Description:
After receiving his medical degree from Tufts University School of Medicine in Boston, Dr. Joslin completed his residency training at Albany Medical Center. He holds professional memberships with the American College of Physicians, the American Board of Internal Medicine and the American Medical Association. In 2000, Dr. Joslin was honored with the Excellence in Primary Care Award from Blue Cross Blue Shield.