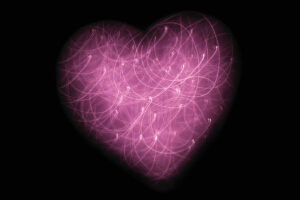 How much of our work, relationships, conversation and dedication takes its inspiration from the heart?
"Put your heart into it."
"I just don't have the heart to…"
"He's such a big-hearted person."
"I say this from the heart."
"Follow your heart."
"A good heart is better than all the heads in the world."
"Wild thing, you make my heart sing."
The language and inspiration that comes from the heart reminds us that our tickers are more than just vital organs. The heart is the vessel for much of what makes us human and humane. So, along with the usual medical and lifestyle reminders for heart health, we invite you to focus on the heart in other, non-medical ways.
We know through research that social connections, community activities, loving relationships and even pets are good for our hearts and our health. We know that to have a broken heart can be devastating – but that our hearts are strong; they can heal and move us forward.
Beyond the essentials of good nutrition and exercise, how else are you taking care of your heart? Do you have family and friends to share your lives with? Do you have passions, interests and activities that make your heart sing? Do you share yourself with your community, through volunteer work and community engagement?
February was American Heart Month, a time when are reminded to focus on the health of our hearts. But every month, every day, should be heart health month–after all, heart disease is the number one cause of death in the U.S. I urge you to do all you can to keep your tickers healthy and, well, hearty.
Every day at CHP I see proof that our hearts are in our work. Caring for our community comes from the heart. This month, please join us at CHP in taking care of the "heart" part of your heart. You will be all the better for it.
~ Lia Spiliotes, CEO