We Bring Health Care to You!
VISIT OUR MOBILE HEALTH UNIT CALENDAR
Our Mobile Health Unit Our (MHU) travels Berkshire County every week to different locations: community centers, food pantries, shopping areas, street fairs, camps, shelter residences, senior residences and public events where we can meet with people who need basic health screening, vaccines and other health services.
Appointments: (413) 528-0457 but walk-ins are welcome.
View our weekly calendar.
---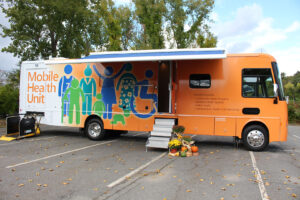 Meet BOB! (the  MHU's Big Orange Bus). BOB is a collaboration between CHP, Berkshire Health Systems and Berkshire Fallon Health Collaboration. CHP travels to Berkshire County towns each week with a family nurse practitioner and other staff to  provide care and information.
In 2022, CHP will add another MHU to our fleet for mobile health care.
---