We Bring Health Care to You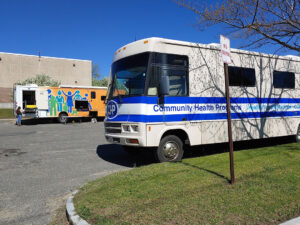 CHP's two mobile health units (MHUs) offer free health screenings, health education, and enrollment for MassHealth, SNAP (formerly food stamps), and the WIC (Women, Infants and Children) nutrition program.  By traveling countywide, MHUs remove barriers to care and improve the health of our region's most vulnerable residents.
---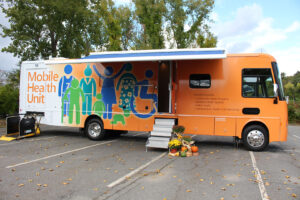 Meet BOB! (the Big Orange Bus)  Community Health Programs, along with our partners in the Berkshire Fallon Health Collaboration, offers wellness visits, chronic disease management and sick visits on our mobile health unit. CHP travels to Berkshire County towns each month with a family nurse practitioner on board to provide care. For more information call 413-429-2946.
Mobile Health Unit Calendar  Meet the Mobile Health Unit Clinicians
---
Mobile Teen Health Clinic
Providing care for youth (ages 14-25) seeking confidential medical, behavioral and sexual health services.
Every other Monday we are at Monument Mountain Regional High School, (MMRHS students only).  Students are able to stop in or make an appointment.
Free medical care and behavioral health counseling
Specialized care and support services – birth control, LGBTQ youth, sexually transmitted disease (STD), HIV testing and treatment, pregnancy testing, urgent care and testing, behavioral counseling.  We connect students to community resources as needed.