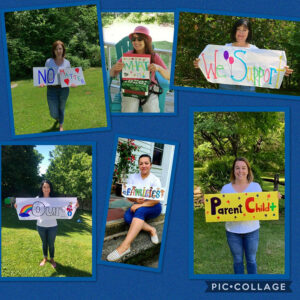 The ParentChild+ program, which is part of a nationwide initiative begun in 1965 to prepares children for success in school.
The free program is a collaboration with Muddy Brook Elementary School in Great Barrington, and is open to Southern Berkshire County families with children 18 months to 3-1/2 years of age.
A trained community-based Early Learning Mentor visits the family home twice weekly for 30 minutes, bringing a book or educational toy that families can keep! Our mentors share reading and playing skills with caregivers to enhance child development and eventual success in school. The program takes place over two-years and runs along with our local public school calendars.
---
The key goals of the program are:
Empower caregivers by giving them the knowledge, skills, and resources to start early education in their own home, as their child's first teacher;
Give the child the skills needed for success in school;
Strengthen caregiver-child attachment in order to foster family resilience.
The ParentChild+ program coordinator is a community-based Licensed Clinical Social Worker, which is an added value to the program. Our social worker offers the Ages & Stages developmental screening twice a year to each family and acts as a referral source, as needed, for support services offered by CHP and other area agencies.
Ages & Stages Parental Consent
---
The program has been operating in Central and Northern Berkshires for the past 25 years and it was our pleasure in 2015 to bring it to our South County families. The program is based at CHP Family Services with generous grants from Berkshire United Way, Department of Early Education and Care, and Berkshire Taconic Community Foundation.
Cynthia Segui, LICSW
Program Coordinator
(413) 717-6260 or csegui@chpberkshires.org
Join us on Facebook.