COVID-19 Vaccine Information at a Glance:
CHP is distributing its initial quantities of authorized COVID-19 vaccines to its essential health care personnel. This vaccination plan follows guidance from the Centers for Disease Control and Prevention (CDC).
We are developing plans to distribute vaccines to patients and the public once we are authorized to do so by the CDC.
CHP is actively monitoring and assessing all information on the COVID-19 vaccines. We will provide information and updates to our patients and the public as quickly as we can. Please check this page frequently.
---
The state has released the following information regarding the upcoming COVID-19 vaccine distribution.  Click Here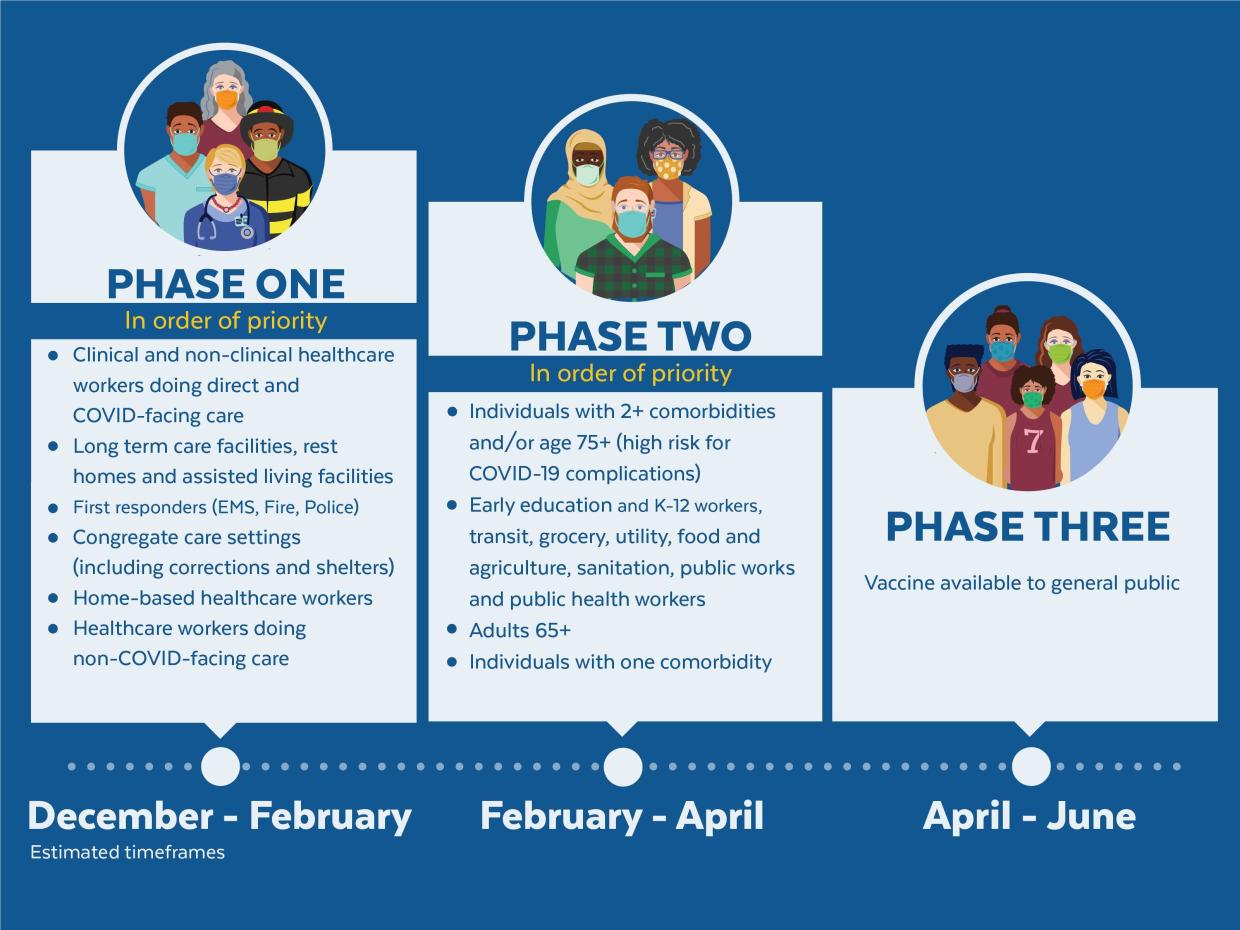 When can I get my vaccine?
CHP is following the CDC, FDA and State protocols and guidelines that prioritize patients based on complications of COVID-19 complications to distribute the vaccine to our patients and staff. Information on the state information and other COVID questions: click here.
Patients will be prioritized by age and current high-risk medical conditions in this order:
Patients over the age of 75 and patients with any of the following high-risk conditions:
Cancer
Status-post solid organ transplant
Chronic Obstructive Pulmonary Disease (COPD)
Serious heart conditions that include: heart failure, coronary artery disease and cardiomyopathies
Obesity (BMI > 30)
Sickle Cell disease
Type II diabetes mellitus
Then, patients over the age of 65 without any high-risk condition
Then, everyone else
CHP will make it known when it begins to vaccinate patients.  CHP will work to identify patients who meet the criteria above and attempt to notify them in order of priority. If you have not been notified of your eligibility and feel you meet the criteria above please contact your primary care provider at CHP. We will work to schedule your vaccination if you desire one.
Will I be able to choose which brand vaccine I can get?
No. CHP will only have one option. We are awaiting information on which vaccine we will be given to our patients.
Who can get the vaccine?
The vaccine will be available to anyone who wants it, in the order and process outlined above. CHP will receive ongoing distribution of the vaccine and will follow all state and CDC guidelines for distribution, with priority going to the process outlined by the State.
Should my child get the COVID-19 vaccine?
The vaccine is approved for individuals 16 and older. There is not yet enough research on the efficacy of the vaccine on children.  Talk to your health care provider if you have specific questions around your child's circumstances.
I am pregnant.  Should I get the vaccine?  Will it harm my baby?
Vaccine will be available to pregnant and breast feeding patients. The vaccine, however, has not been studied in pregnant or breast feeding patients. Preliminary data form other countries suggests it is safe for both. The vaccine does not appear in breast milk.  The American College of Obstetrics and Gynecology has no formal recommendations at this point.  Patients should discuss their options with their clinician.
Where can I get my vaccine?
You will come to your CHP office at the time and date of your scheduled vaccine appointment. We will not accept walk-ins.
Do I have to pay for my vaccine?
There is no cost for the vaccine.
What is the process for getting my vaccine? 
The vaccine is a two-dose distribution.  CHP will be conducting specific vaccine clinics.  Our staff will contact our patients, in order based upon the state and CDC guidelines set forth, to work with you to schedule a time.
https://www.mass.gov/info-details/when-can-i-get-the-covid-19-vaccine
We will call you to set up your appointments.  At the time of your appointment, you will receive a card with the date/time stamp of your vaccine appointment and schedule your 2nd dose appointment.  You MUST bring that card with you for your second appointment.
---